John Lewis Partnership profits have fallen by more than 50% after the retail group was hit by costs to reorganise the business.
Profit before tax fell 53.3% to £26.6m for the half-year ending 29 July after a £56.4m charge mainly for restructuring and redundancy costs.
At the John Lewis department store, operating profits rose by 10%.
But at Waitrose operating profits fell 18% as its margin was eaten into by higher costs.
"Look, nobody should be surprised that this is a tough market for retailers. There's any number of reasons for that," John Lewis Partnership chairman Sir Charlie Mayfield told the BBC.
"The reason our profits are down is predominantly because of margin, and cost prices are rising. It's a very competitive market, retail prices are not rising as fast."
Inflation is pushing costs up for John Lewis Partnership, but the retailer is choosing to absorb those higher costs, Sir Charlie said.
Has the UK got enough coffee shops?
Next shares surge on brighter outlook
Morrisons reports rising sales and profits
The fall in the pound after the Brexit vote and continuing political uncertainty have pushed up inflation, John Lewis said in its statement.
This has dampened customer demand, especially in categories connected to the housing market, it said.
But the retailer can afford to continue to absorb costs "for a while", Sir Charlie said, because of the group's healthy cash reserves.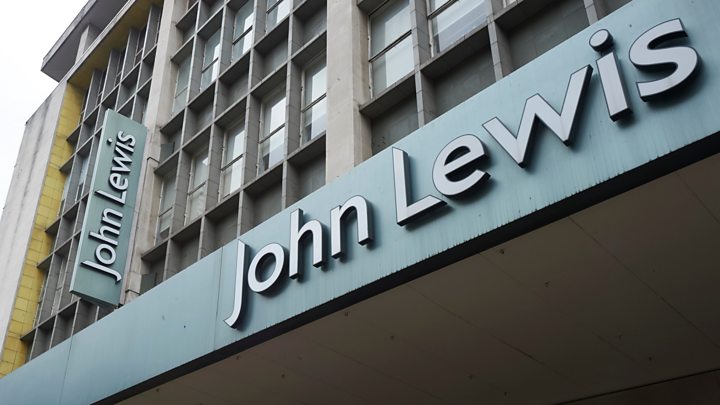 He also said that money spent on reorganising the business, which ate into profits, was an important investment.
"We haven't… hunkered down in a difficult market. Instead what we've done is we've pressed on with some really important changes that are going to make the business fit for the future," he said.
"While it's been a difficult first-half, our sales have still been up, our profits are down, but we've made some really important progress for the future," Sir Charlie added.
John Lewis said in its statement that margins for the year would be hit by softening consumer demand and rising pension costs.
'Profits to fall'
Tom Berry, a retail analyst at GlobalData, expects profits to continue to fall this year due to squeezed profit margins and plans for large-scale investment.
"Waitrose must continue to invest in prices to remain affordable for a sufficient number of consumers," he said.
But he said the reorganisation of the business should bear fruit, particularly the plan to remove managerial rather than face-to-face staff.
"The introduction of flexible team structures and responsibilities will allow the upmarket grocer to better attend to its affluent customer base that is expects a high level of service."
2017-09-14 13:30:49

Feed Source